The team over at Facepunch Rust have always been great at constantly providing meaningful updates for Rust over the years. The excitement that builds before a large update is seen throughout all the Rust communities.
Many community players take to the staging branch to try out updates before anyone else can. The best thing about the staging branch is that anyone can access it! It should be noted that the content is often a work in progress and the staging version can change quite frequently as the developers update it.
The staging branch serves as a testing ground for new features and improvements before they are officially released. It allows players to get a sneak peek into what's coming next and provide valuable feedback to the developers. This approach allows the developers to get feedback and bug reports before its released to the public. The best thing about staging branch is the cool new features you can try out before all your friends.
How to play Rust Staging Branch?
So, how exactly does someone play on the staging branch? Thankfully Facepunch have made it extremely easy.
Simply head over to your Steam library and search for "Rust - Staging Branch"
Make sure you have it installed and have Beta Participation set to "None"
Launch the game! You are now running Rust Staging Branch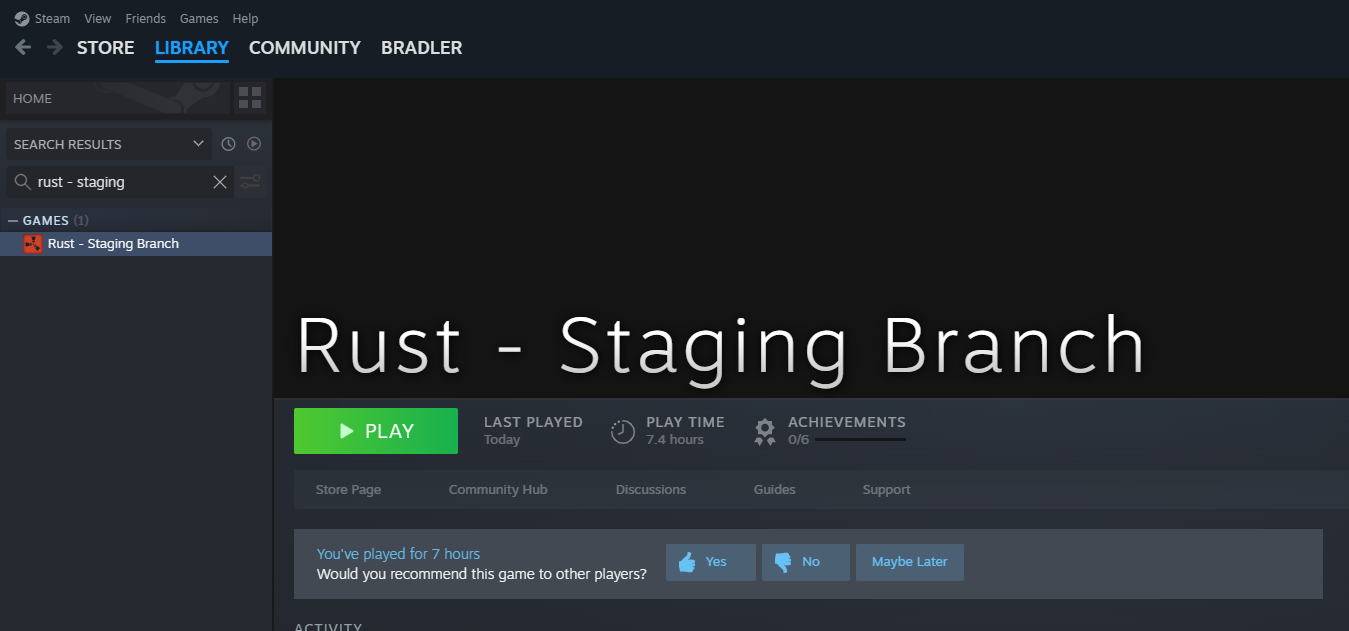 How to join Rust Staging servers?
Now it's time to try out the new features! While you are in staging branch you won't be able to connect and play on your usual Rust servers.
You will notice that there are a few publicly accessible Facepunch staging servers which you can join as well as some community servers that are public. These are great options to try out the latest updates, but they don't let you spawn things in or use admin commands.

How to host a Rust Staging server?
Staging servers can be pretty boring if you don't have access to spawn items in or customize the server to your liking. The solution to this is to create your own server. Rust server hosting is kind of our specialty (not to brag).

You can follow this guide to create your own Rust staging server but to summarize:
Go to your Pine Rust Server
Set the Beta Branch to "staging"
Reinstall the server and enjoy the total control of your very own staging server.
Enjoy the pre-release version of Rust!
Now that you have gone through the hard part of installing the staging branch and finding the perfect server to play on it's time to enjoy all the new content. Grab some friends and explore the latest monuments or spawn in the new items and vehicles!

The possibilities are endless in Rust. Be sure to try out all the new content and let the Facepunch team know your thoughts about it before release, you might even get them to make some changes you want.