The rumours of a potential sequel to Facepunch's insanely popular "Rust" have been around for years, but today they may have just been confirmed. A controversial announcement from Unity resulted in Garry Newman, owner of Facepunch Studios, subtly hinting that Rust 2 is in the works. We discuss all the details we know in this post.
Unity Price Changes
Unity is a popular game engine that has been the backbone behind some of the biggest games in the industry. Unity happens to be what has powered Rust for the past 10 years.

The Rust team's long-term commitment to Unity might be coming to an ugly end as Unity has just released its updated pricing plans, starting January 1st 2024. Along with the usual pricing changes they have introduced a "Unity Tax" which has sent shock waves across the game development world.

To summarize this "Tax" is applied to all game studios that fall within a certain revenue and download threshold. There will then be a fee charged to the studio every month depending on the number of installs their game receives. These fees can be as high as $0.20 per install which adds up quickly especially if it includes users reinstalling their game on a new PC.
There are still a lot of unknowns so it is hard to say how this will affect other games. Many users are concerned this could be drastic for free games such as Unturned who may not have the income required to comfortably cover the monthly fees.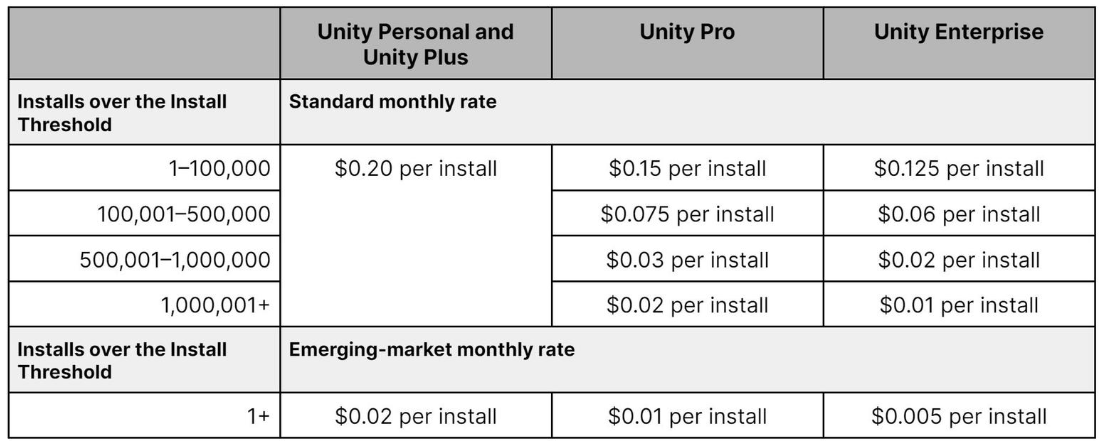 How Will This Affect Rust
Garry Newman has taken to Twitter and his personal blog to express his thoughts about the news.
Many players may be concerned that this could force Rust to change the engine before the price changes are implemented. This is a pretty reasonable concern considering Garry is estimated to pay quite a hefty sum per year to Unity with the new pricing.

Thankfully, everyone can breathe a sigh of relief as Garry mentioned on his blog that the cost is not a big concern for them.
Let me be clear.. the cost isn't a big issue to us. If everything worked out, the tracking was flawless and it was 10p per sale, no biggy really. If that's what it costs, then that's what it costs.
So it seems that the original Rust will be around in Unity for a while and players shouldn't worry about their favorite open-world survival game suddenly disappearing.
Garry Newman's Opinions
Garry has been known to not mince his words and certainly isn't afraid of voicing his opinions on things. After the news dropped about the Unity price changes he quickly took to his blog to express his concerns. Titling his article "Unity can get f*cked" he has clearly drawn in some attention, with his blog post already sitting at over 200,000 views!
His opinion about the changes seems to be one that is shared by many other game publishers. They feel that Unity has broken their trust and while Rust might not be affected by the prices, who is to say this will be the only price hike Unity tries.
But that's what happened. And now we know they can do that, and that they're willing to do that. Unity is the worst company to be in charge of the Unity Engine.

The trust is gone.
Confirmation Of Rust 2
Ending off his blog, Garry reflects on the past 10 years that they have been using Unity and regrets not working on their own game engine.

To close off his blog he left the Rust community in shock as he subtly dropped a hint that Rust 2 is in development, or at the very least being thought about.
Let's not make the same mistake again, Rust 2 definitely won't be a Unity game.
While it may seem like a well-deserved jab at Unity, it is also the first (somewhat official) announcement that Rust 2 might be on the horizon.
Nobody is quite sure if development on Rust 2 has already begun or if it is simply an idea that the Facepunch team have been discussing but it is certainly exciting to know that the creator of Rust is thinking about it.
Conclusion
Whatever direction Rust 2 is taken in we have faith that the Facepunch team will be able to deliver something extraordinary. While we might not have any screenshots or information to share with you yet we do have a community-made trailer of Rust in Unreal engine. This might give us an idea of what Rust 2 might look like in the future
For now, all we can do is wait and see how Garry and the team handle this situation. Maybe you can spend some time on your favorite Rust server or even build your own server. It seems like Rust will be here for a while and the Unity changes won't change much for us players.